History

The
village's recent history dates back to the mid 18
th
century, when Crooked Tree was discovered by European settlers, navigating up the Belize river and its tributaries in search of logwood used in dye production. Its name 'Crooked Tree' quite probably could be the result of the exageratedly crooked logwoods which lined the shorelines of the 'island' village. Being accessible only by boat until 1984, Crooked Tree's population grew with limited invasion by 'outsiders', giving importance to a few family names that have become synonimous with the village: Tillett, Gillett, Crawford, Wade... This has created an unusually strong sense of ownership and belonging of a people to a place, preserving its cultural characteristic and vibrant community atmosphere. Records document the establishment of the first school around the 1830's, testimony of a stable, vibrant and growing population. Large open lagoon, yards fenced with barbed wire and planted with big old fruit trees, unpaved streets without any name and friendly people are characteristic of Crooked Tree Village.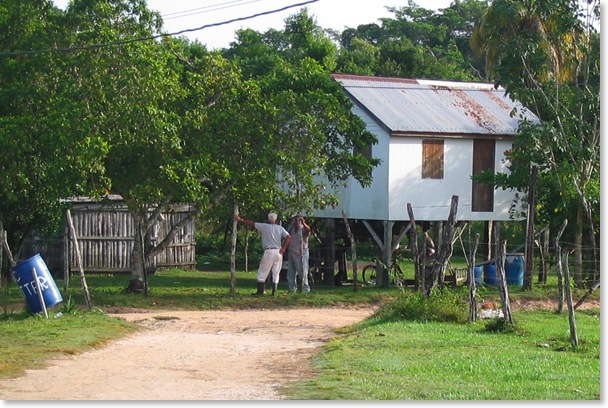 It is probably the best place in Belize to experience and enjoy good old-fashioned creole village life. Be it native dug-out dory handline fishing or wood cooking on a fire hearth or the annual cashew harvest and festival or coconut/palm oil making or a cricket match or a village dance or simply picking fruits to eat from someone's backyard, one is enriched with the simplicity of village-style living. Many native's only means of survival include fishing, cattle-raising and/or subsistence farming. The cashew crop, harvested and processed traditionally by women and children, provides an essential source of income for many homes.

Crooked Tree Cashews
The sandy soil of Crooked Tree has permitted cashew trees to flourish naturally, creating large organic stands throughout the village. The lack of human intervention in this natural cashew orchard phenomenon, has preserved a rich biodiversity within the cashew stands. There are many different varieties of cashew, roughly identifiable by the different seed size and fruit colour (red, yellow or mixed). The cashew fruit is iron rich, perishable, highly fibrious, sweet and juicy with a slight touch of tartness. The nut hangs up side down outside the fruit and is protected in a leatherly shell filled with small pockets of oil. The fruit is harvested during the spring and is used and conserved in a wide variety of ways, from juice and wine making to stews, jellies and jams. The seed is roasted and baked to remove the outer shell and inner 'skin' protecting the nut. Though hard, dirty work, the villagers participate actively in nut processing as it is an important source of income for many families.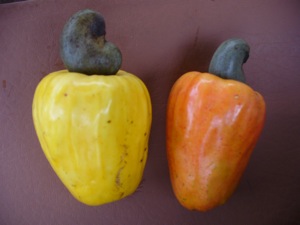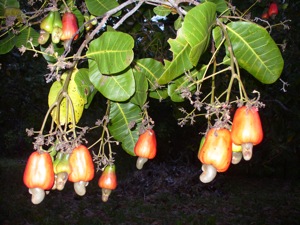 The Crooked Tree Cashew Festival is celebrated annually in early May. There are food booths with local, fire-hearth cooked village food and a wide variety of cashew products. Activities include free nature tours, story telling, cashew processing demonstrations, games, live local band and a village dance during the night.

Chau Hiix Maya Site In Crooked Tree
Crooked Tree Village was once occupied by the ancient Maya thousands of years ago. The site named Chau Hiix for the presence of small wildcats, Jaguarundi, has been under excavations only since 1993. It is located west of Crooked Tree Village on the shores of Western Lagoon. Ornamental objects and tools have been found in excavated tombs. This site represents one of the last inhabited settlements in Belize and quite probably had important links to the nearby Lamanai Ruins.


Birding and the Crooked Tree Wildlife Sanctuary
The Crooked Tree Wildlife Sanctuary (CTWS) was designated in December 1984 (SI 95) to preserve an important wetland complex which serves as a dry season refuge for resident and migrating waterbirds. It's area is estimated to encompass 16,400 acres of lagoons, creeks, logwood swamps, broadleaf forests and pine savanas. Being classified as a wetland of international importance, this reserve has been declared a Ramsar Site under the Ramsar Convention for the conservation and sustainable use of wetlands. It is managed by the Belize Audubon Society (BAS).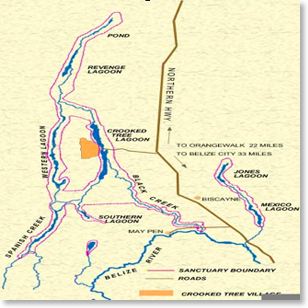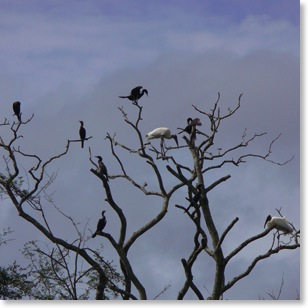 Crooked Tree Village is situated in the middle of the reserve, its surrounding lagoons and wetland area is home to hundreds of indigenous and migratory birds. It hosts up to 400 species, of which 277 are resident and 123 migratory (Miller and Miller, 2006).
During the dry season (February through May), the lagoons and waterways shrink, creating rich feeding and congregating areas for birds and wildlife. The shallow basins once filled with water expose cracked mudflats spotted with small 'water holes' where large number of waterfowls, waders and shorebirds flock, dominating the landscape. One can spot storks, herons, kingfishers, flycatchers, terns, ibis, rails, grebe, sandpipers, warblers, ospreys, hawks, vultures, ducks, crakes and limkins among the major bird groups. Among these are the endangered Jabiru, Agami, Bare-throated Tiger and Boat-billed Herons, the Black-collared Hawk and Snail Kites, all 5 species of Kingfishers including the American Pygmy Kingfisher, the Peregrine Falcon, and the black-bellied whistling and Muscovy Ducks. It is definately the best time to see extraordinary plant and animal species adaptation to conditions of extreem wet and dry.
Endangered species within the reserve include the Jabiru Stork, the Central American River Turtle (Hickatee), Morelet's Crocodile, the Mexican Black Howler monkey and the West Indian Manatee. Crooked Tree Village's mixed pine ridge and hardwood forests also offer habitats to non wetland bird species such as the globally endangered Yellow-headed Parrot.

Along the lagoon's margines, shorelines and banks you can observe the freshwater's version of the saltwater mangrove, the logwood or 'bloodwood', growing in thickets providing essential nursery areas for fishes.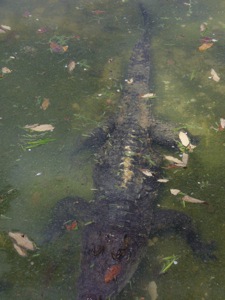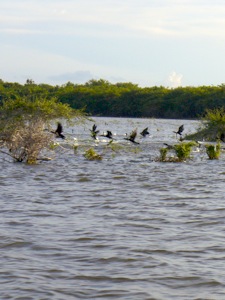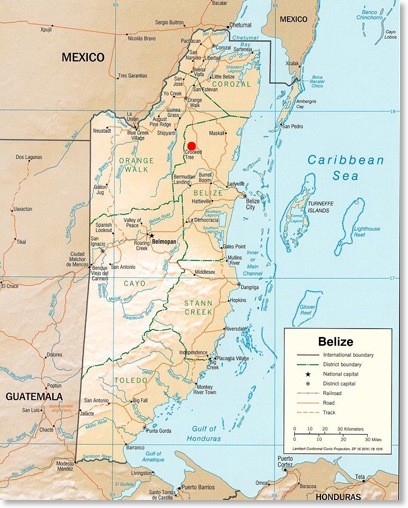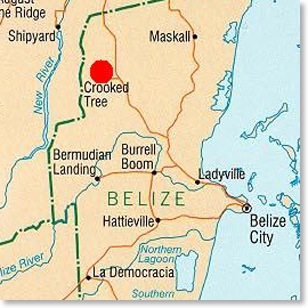 How To Reach Us
Crooked
Tree Village is located in the Belize District just after the mile 31 sign post travellling northwards from Belize City or about 20 miles travelling southwards from Orange Walk Town. From the highway, take a left turn (if travelling from Belize City) or a right turn (if travelling from Orange Walk) unto a 3 ½ miles dirt road which takes you into the village. Upon crosssing the causeway across the lagoon, immediately to your right is the Belize Audubon Information Center where you should check in to register as a visitor to the sanctuary.


Getting There
Direct
Bus transport into the village is only from Belize City and it takes about 1 ½ hours. Jex Bus departs at 10:50am Monday to Saturday from in front of Mike's Club on Regent Street West. From Monday to Friday a bus also departs at 5:15 pm from the Belcan Bus Stop near the Save-U Supermarket complex. Buses depart the village for Belize City only in the mornings at 6:00am and 6:45 am. The buses drop you off or pick you up on the main street near our lodge so there is no need to worry about luggages; just ask to be dropped off at Tillett's Village Lodge.

There
is no direct transport on Sundays, however one can always take any regular bus travelling from Belize City or Orange Walk and stop at the Crooked Tree Junction along the highway. From there you can either hitch a ride in on a private vehicle or call our lodge to be picked up ++(501) 602-6486